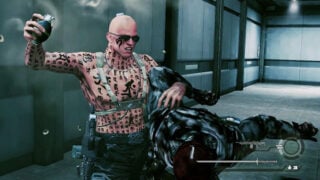 Devil's Third will launch for Wii U via retail and digitally via the Nintendo eShop in the Americas in Q4 2015, Nintendo announced. Contrary to previous reports, it will be published by Nintendo.
The over-the-top, third-person action shooter combines modern military weaponry with ninja-style swordplay and melee combat.
Additionally, a PC version of the game, tentatively titled Devil's Third Online, is also in development. While the Wii U version will feature a full multiplayer mode, as well as a single-player mode, the "free-to-start" PC version will offer a multiplayer-only experience tailored to PC. The game service will run from September 2015 onward in various regions around the world following the release of the Wii U version in each region. In consideration of cultural characteristics in each region, the PC version's content is being optimized via co-development with local publishers.
In Europe, the game will launch for Wii U on August 28. Japan gets it August 4.
Via: Nintendo press release (e-mail), Valhalla Game Studios press release.