Taiko Drum Master: V Version confirms new songs, Ridge Racer guest characters
Reiko Nagase and SYNCi car to appear.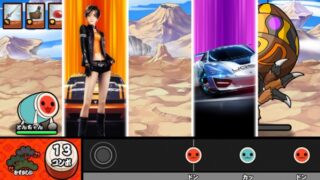 Bandai Namco has confirmed four new songs and guest appearances from Ridge Racer's Reiko Nagase and cover car the SYNCi for Taiko Drum Master: V Version.
Get the details below.
■ New Songs

Game Music

"Ridge Racer (Ridge Racer USA Mix)" (feat. Takenobu Mitsuyoshi (SEGA))

Namco Original

"Day by Day!"
"Gekka Bijin"
"Saitama 2000"

■ Donda Quest Guest Character News

Joining Donda Quest Mode are the following guest characters:

Reiko Nagase (Ridge Racer)
SYNCi Vehicle (Ridge Racer)

Previously confirmed guest characters include:

New Generations (The Idolmaster: Cinderella Girls)
Blood Members (God Eater 2: Rage Burst)
765 Production All Stars (The Idolmaster)
Koro-sensei (Assassination Classroom)
IA (Vocaloid)
Normin (Tales of Zestiria)
Adol Christin (Ys I & II Chronicles)
Rean Schwarzer (The Legend of Heroes: Sen no Kiseki)
Kazuya Mishima (Tekken)
Emilie De Rochefort (Tekken)
Sachiko Kobayashi (Japanese singer)
Propa-kun (Freedom Wars)
Contribution Girls (Freedom Wars)
GUMI (Vocaloid)
ASF-X Shinden II (Ace Combat)
Kazuchika Okada (New Japan Pro Wrestling)
Kuma Tomo (Kuma Tomo)
Saul and Gordon (Critical Velocity)
Wagakki Band
Taiko Drum Master: V Version is due out for PS Vita on July 9 in Japan.
View a new set of screnshots at the gallery.