Oculus Rift launching Q1 2016 with Xbox One controller, new games and VR controller announced
Today's pre-E3 press conference in short.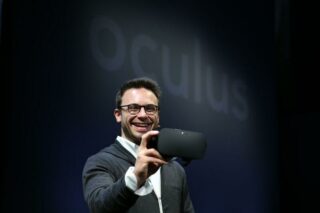 Oculus Rift will launch in Q1 2016 and every unit will come bundled with an Xbox One controller, Oculus announced during its pre-E3 press conference today.
A set of games both announced and unannounced were showcased at Oculus' event, including:
EVE Valkyrie (CCP Games)
Chronos (Gunfire Games) – An atmospheric RPG that chronicles one young man's lifelong quest to save his homeland from a great evil. Central to this quest is an ancient labyrinth, which holds the secrets necessary to restore life and peace to his home. However, the architects of this labyrinth designed it to open only once a year. The labyrinth is a test, and each time the hero fails he is cast out and must wait one year to return.
Edge of Nowhere (Insomniac Games, Oculus Rift-exclusive) – A VR third-person action–adventure game. Travel to the far reaches of the Antarctic mountains in search of a missing expedition team. What appears to be a rescue mission takes a turn as you venture into the deep unknown, and discover a surreal world that will test your wits and sanity. Scale towering mountains and use makeshift weapons to survive and avoid descending into madness. In Edge of Nowhere, nothing is what it seems and the unexpected lurks from all sides.
Damaged Core (High Voltage Software)
VR Sports Challenge (Sanzaru Games)
Lucky's Tale (Playful)
Esper (Coatsink)
AirMech VR (Carbon Games)
Additionally, Oculus is working with a number of developers on games for the Rift, including:
4A Games
Carbon Games
CCP Games
Climax
Coatsink
Glu
Gunfire Games
High Voltage Software
Insomniac Games
Ozwe
Playful
Ready at Dawn
Sanzaru Games
Signal Studios
Oculus announced that it is pledging more than $10 million in support to independent game development for Rift games.
The Rift itself has a dedicated system interface called "Oculus Home," which Oculus describes as the "jumping off point for everything in the Rift universe." You'll drop into Home as soon as you put on the Rift, where you can access your games list, friends list, and more. You can even try VR previews of games before you buy them. A 2D, computer-based version of this interface is also being developed. You'll also be able to stream your Xbox One games to PC and play them within a virtual living room created in the Oculus Rift.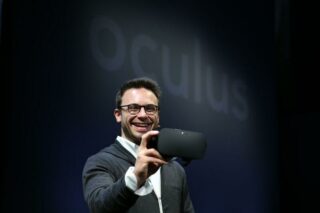 Oculus closed the show with the announcement of Oculus Touch, its new input device that aims to better immerse players into the virtual reality experience. They're a pair of wireless, half-moon-shaped controllers, one for each hand, with 360 degrees of freedom tracking. Each features an analog stick, two buttons, and an analog trigger. There are also haptics so you can feel the objects you're touching in-game, and can detect touch-based input from all fingers. The controller was developed with six key points in mind: hand presence, manipulation, low mental load, communicative gestures, traditional inputs, and lightweight.
A new experience dubbed "Toybox" is being used to test the Oculus Touch, which will be demoed at E3 next week.