New Xbox One user interface announced
New UI previewed during Xbox Daily show.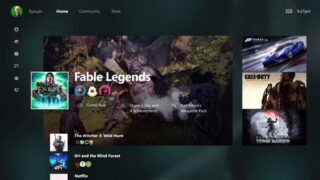 Microsoft will launch a new Xbox One user interface this fall, the company announced at E3. It is designed to make it faster to get to your content and complete important tasks.
The new user interface includes a redesigned Home screen, which displays your most-used Xbox content, a new guide, a community section, the return of Xbox Avatars, and Cortana. It will also "takes some of the best parts of Windows 10" and optimize them for Xbox. Microsoft promises faster party formation, easier content access, and more.
Here's a rundown of the most notable changes:
A Redesigned Home

We've redesigned Home to surface your most-used Xbox content. You can scroll vertically to see your recently played games with deeper information about the content and games you are using. You can see game DVR clips, achievements and add-ons for your games and can also quickly discover new content.

A New Guide

Gaming must-haves like friends, party invites and messages can be accessed directly from Home or while in a game. Scroll left from Home or double-tap the Xbox button while in a game and the guide will slide over on the left side of the screen. From here you can access gaming must-haves like your friends list, party invites, messages, and notifications.

Community Section

We've expanded upon the current Friends section so gamers can more quickly and easily access all their social activities. This includes the Activity Feed to see the latest updates from friends and game developers as well as What's Trending on Xbox Live to interact with the most popular games and content currently on Xbox Live. Scroll right from Home to see what games your friends have been playing, interact with their posts and see the top things happening on Xbox Live right now.

Xbox Avatars

We saw the passion from the community toward Xbox Avatars and are excited to bring them back in a more prominent way on Xbox One. We are modernizing the look of avatars with better image quality, keeping all the familiar customizations fans loved on Xbox 360.

Cortana Comes to Xbox One

On Xbox One, Cortana becomes your personal gaming assistant. Cortana helps you elevate your game, gets smarter over time, and works across all your Windows 10 PCs, tablets and phones (Cortana will also soon be available on iPhone and Android phones). Through voice commands on Xbox One, Cortana will assist you to more quickly find great games, new challengers and friends on Xbox Live, or accomplish common tasks.

Cortana can also help you get achievements by surfacing videos and information to help you succeed. Working across Windows 10 PCs, tablets, phones, Xbox One, and iPhone and Android phones, Cortana can assist you wherever are you are – like setting an important reminder from your phone to receive on your Xbox One when you log on at home. Cortana will launch first in the U.S. and the U.K. on Xbox One this fall.
View the new user interface in action below.