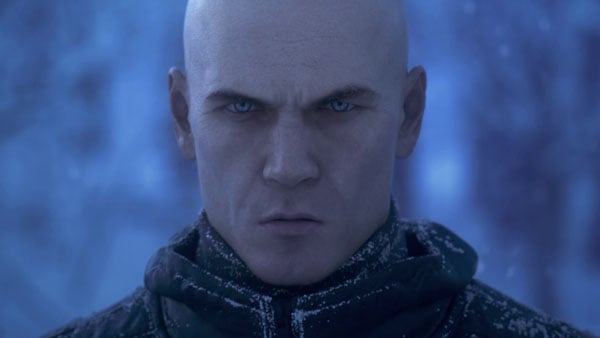 Square Enix announced the latest entry in its Hitman series during the Sony E3 2015 press conference this evening. It's simply titled Hitman and will launch for PlayStation 4, Xbox One, and PC on December 8 as a digital-first title. The story will evolve and deepen over time, with the initial storyline concluding in 2016.
The game, which developer Io Interactive says not to think of as a reboot, is a "creative stealth action game." Players take on the role of Agent 47, an operative of the International Contract Agecy, who's tasked with taking out high-profile targets all over the world with the support of his long-time handler Diana Burnwood.
Each location in Hitman is described as a "living sandbox," where "every NPC has a name and every room matters." Locations range "from the highly fashionable Paris and sunny coast of Italy to the dust and hustle of the markets in Marrakesh." These areas are more populated and much larger than in previous games, full of things to experiment with and targets to kill without any checkpoint systems in place. Players will have complete freedom of approach over how, where, and when you decide to take out your target. "Contracts Mode," which will be detailed further later in the year, promises to "really shine" in these big sandboxes.
Save games are being brought back, meaning you can save your progress anywhere, and "pretty much every system" in Io Interactive's Glacier engine has been revamped.
The new Hitman is being made available first via digital download. This is to enable Io Interactive to build an expanding and evolving world, and to be able to take player activity and feedback into account. It will begin on December 8, and new locations, missions, and hits will be released at regular intervals through 2016. Io aims to "creating an ongoing and evolving game which plays out with a finale that brings the story arc together." To keep players engaged, Io will also be releasing one-off live events and live targets.
"Imagine a target appearing for every player in the world, for a limited time only… let's say 48 hours," Io said in a blog post. "Where your one shot counts. And when that target is gone, it is gone forever."
A beta for the next Hitman is also planned. PlayStation 4 will be the only console you can play the beta and the first to receive it. A PC beta will arrive a week later.
Watch the announcement trailer below.