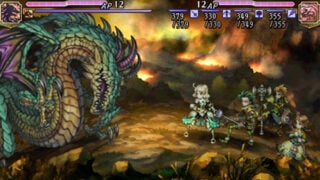 Famitsu this week reveals Grand Kingdom, a new tactical RPG for PlayStation 4 and PS Vita from Grand Knights History director Tomohiko Deguchi due out later this year in Japan.
Set in a royal fantasy world of swords and magic, players will wage turn-based battles by commanding their own mercenaries. Four major powers are competing for dominance, and the player can choose which country it would like its mercenary group to support.
Online multiplayer is supported (it's actually listed as an "online RPG," but also supports offline) against players belonging to any of the four major powers. There is also a system to expand your territory through repeated invasion and defense.
Grand Kingdom will also feature fully voiced characters and conversation scenes with various animations. The following characters have been announced:
Gladius Ringland (voiced by Ryoka Yuzuki)
Preshia Tera (voiced by Miho Arakawa)
Julius Wiseman (voiced by Shintaro Asanuma)
Grahm Berngaldo (voiced by Kenjiro Tsuda)
Our source notes that although the game is similar to Grand Knights History, there is no direct relation, story and system-wise.
The game's staff is as follows:
Development is currently 65 percent complete.
Here's a tiny scan:
Thanks, Hachima Kikou and Otakomu.