Gears of War 4 and Gears of War: Ultimate Edition announced
Ultimate Edition out this August, Gears 4 next year.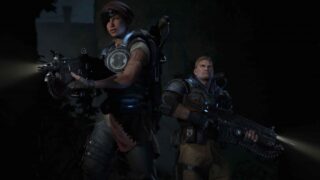 Microsoft announced Gears of War 4 and Gears of War: Ultimate Edition for Xbox One during its E3 2015 press conference. Gears of War 4 is coming holiday 2016, and Gears of War: Ultimate Edition is coming August 25.
The new Gears of War was demoed on stage, following new male and female characters. The two eventually become entangled in a huge storm and rush to shelter for safety. Back outside, they find a courtyard covered in Locust pods, and are eventually met by animal-like Locust creatures, which they proceed to melee and chainsaw to death. Before the enemy gets the best of them.
Find the fact sheet for Gears of War: Ultimate Edition below. A one-week public beta will begin today. You can sign-up at the official Gears of War website.
Gears of War: Ultimate Edition

The story of "Gears of War" thrusts gamers into a deep and harrowing battle for survival against the Locust Horde, a nightmarish race of creatures that surfaced from the bowels of the planet. Players live and breathe the role of Marcus Fenix. A disgraced former war hero, Marcus seeks personal redemption as he leads his fire team against an onslaught of merciless warriors from below.

Features

Remastered for Dolby 7.1 Surround
90 mins of new campaign content from the original PC game
New Xbox Live achievements (1,250 Gamerscore)
Concept art gallery and unlockable comics
Modernized Multiplayer featuring:

60 frames per second
Dedicated servers
Skill-based matchmaking
New game types – Team Deathmatch, King of the Hill (Gears of War 3 style), and new 2v2 Gnasher Execution

Total of 19 maps, including all DLC and PC-exclusive maps
17 unlockable Gears of War 3 characters for Multiplayer progression
More Match customization including Actives, Respawn Time, Self-revive and Weapon Respawn
Modernized gameplay with smoother movement and updated controls:

Alternate Controls and all new Tournament Controls
All controls tuned for Xbox One
Adding the Gears of War 3 features you love: Enemy Spotting, Multiplayer Tac-Com, Improved sensitivity customization
Watch the first gameplay of Gears of War 4 below and the first screenshots here. View the first screenshots of Gears of War: Ultimate Edition here.