Freedom Wars' Propaganda Idols adds Contribution Guys unit
Watch their debut single.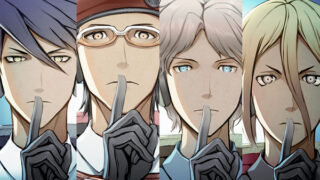 In Freedom Wars, the "Propaganda Idols" are an idol group in the game world designed to raise prisoners' motivation. Its only known unit was the "Contribution Girls." And back in January, Sony teased a new unit would join the group. Today, they've been revealed as the "Contribution Guys."
The Contribution Guys are made up of Yu (voiced by Eiji Miyashita), Gi (Takuya Eguchi), Wel (Kenji Akabane), and Alto (Seiichirou Yamashita). Their debut single is a new rendition of "Let's Contribute! The Imprisonment of Love is 1,000,000 Years."
Sony also announced the release of the 1,865 yen "Super Contribution Promotion Music Collection," a music CD that includes an arrange of eight songs from the Contribution Girls. You can view and preview its contents over at Amazon Japan.
Watch the Contribution Guys single below.