DJMax successor Superbeat: Xonic coming to North America this fall
Acttil and PM Studios bringing over Korean rhythm game.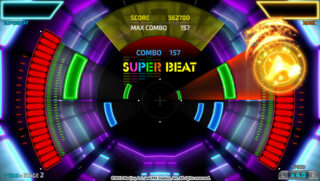 Superbeat: Xonic, developed by Korean company Nurijoy, which was founded by the creators of DJMax, is coming to North America this fall via a publishing collaboration between PM Studios (which previously published the DJMax games in the United States) and Acttil.
The game features over 45 audio tracks and multiple levels of difficulty.
"I'm extremely excited to work with my former colleagues and bring what I feel is our spiritual successor to DJMax," said PM Studios CEO Michael Yum. "We've been listening to the fans and decided that the Vita was the best platform for our players.
"I'm also very honored to work with the talented folks at both Nurijoy and Acttil on this new endeavor. With the former DJMax developers at both PM Studios and Nurijoy developing what they're best at and by allowing Acttil to help us bring this game to the market, I feel we can give the players something they can really enjoy."
Superbeat: Xonic will be on display in trailer form at Sony's E3 booth next week. More information is due out on the game's official website tomorrow.
Thanks, Kotaku.