Death Under the Labyrinth Japanese release date set
Pre-order the game to get the "Trillion Form."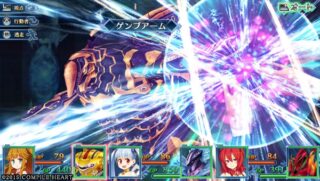 Death Under the Labyrinth will launch for PS Vita on October 8 in Japan, the latest issue of Dengeki PlayStation reveals. The game will cost 6,800 yen at retail, 6,000 yen via download, and 8,800 yen for a limited edition.
Pre-orders for the game will include a "Trillion Form" for use in the game, which is part of a collaboration with Makai Shin Trillion, another Compile Heart game part of the Makai Ichiban Kan brand.
The magazine also details on the game's "Form Change" and "Demon Stone" systems. In addition to your regular form, you can also change into four different forms. Demon Stones let you remember a special skill or enhance your abilities.
Thanks, Hachima Kikou.