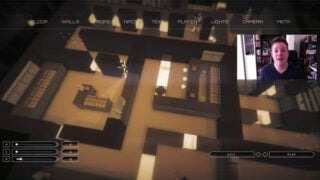 Mike Bithell has released a new Volume walkthrough video showcasing the upcoming PlayStation 4 and PS Vita stealth game's level creation tool.
Players will be able to utilize all of the props found within the game when creating their levels. That's "every gadget, gizmo, enemy type, environmental trap, wall design and colour palette," according to Bithell. You'll be able to easily create a level and share it with other players online. You'll be able to see top-rated player-made levels, as well as create custom playlists made from a mix of player-made and campaign levels.
According to Bithell, while the game has its own 100 levels in campaign mode, you'll be able to go through said campaign and hear the same story using your own or other people's map creations, as well.
Volume is due out for PlayStation 4 and PS Vita during the late summer. An exact release date will be announced at E3 next month, Bithell teased.
Watch the video below.