Tokyo Xanadu screenshots introduce Shio
Plus, a look at the game's final box art.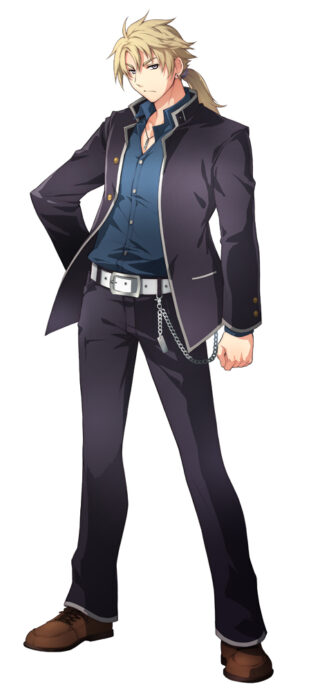 This week's new Tokyo Xanadu screenshots introduce the newly confirmed sixth playable party character Shio Takahata. Additionally, Falcom has detailed the game's first-print limited edition, as well as revealed the standard edition's final box art.
Get the details below.
■ Box Art

■ First-Print Limited Box (7,600 yen plus tax)

Tokyo Xanadu original soundtrack mini – A selection of background music from Tokyo Xanadu on a special soundtrack.
Tokyo Xanadu full-color art book – From character artwork to setting illustrations, this 64-page full-color art book features various visuals from the creation process of Tokyo Xanadu.
Tokyo Xanadu original rubber strap (Kou and Asuka) – A set of cute, drawing-like rubber straps of the hero Kou and heroine Asuka. You can attach them to your smartphone or PS Vita.

■ Shio Takahata (voiced by Kosuke Toriumi)

18 years-old. With his large build, he's incredibly strong, as well as Morimiya High School's number one delinquent. With a reticent personality and one-track mind, he doesn't laze around town or start meaningless fights either.

In the past, he was the leader of the famous delinquent group "BLAZE," and was the admiration of its members. But a year has passed since the incident that gave him reason to step down as the group's leader.

After that, rumors began surfacing that the team had disseminated. But now someone is going around misrepresenting themselves as BLAZE and causing various incidents.

■ Character Actions

Basic Attack

Shio uses a great sword-like Soul Device allowing him to drive with heavy slashes. Although slower compared to the rest of the party, he is powerful and has a long reach, enabling him to deal great damage to surrounding enemies with a simple swing of his Soul Device.

Shooting Skill: Flare Slash

A skill that sends a shockwave-like fiery slash frontward. Thanks to the wide reach of the shockwave, you can deal a lot of damage by striking when multiple enemies are gathered together.

Flight Skill: Blast Edge

A skill where Shio swings his Soul Device downward, then continues into a high-speed forward thrust. Given Shio's normally slow speed, this also serves as a good way to dodge when you're in a pinch.

Strength Skill: Ignis Break

A skill where Shio uses all his might and swings his Soul Device from the ground to the sky which deals great damage to enemies weak against fire. Since the blade rotates while it cuts upwards, depending on the way you approach, it's possible to hit a wide scope of enemies.

Cross Drive: Crimson Raid

After unleashing a series of consecutive slashes in a row with his Soul Device, Shio leaps to the sky. Then, in full concentration and while clad in a burning aura, he takes aim and drives towards the on-ground enemies.

■ Confirmed Voice Cast

Kou Tokisaka – Shintaro Asanuma
Asuka Hiiragi – Yu Shimamura
Sora Ikushima – Ai Kakuma
Yuuki Shinomiya – Daiki Yamashita
Mitsuki Hokuto – Haruka Yamakazi
Shio Takahata – Kosuke Toriumi
Shiori Kurashiki – Ai Kayano
Ryouta Ibuki – Atsushi Abe)
Jun Kohinata – Kanae Ito
Seijuroh Hokuto – Hirohiko Kakegawa
Kyouka Yukimura – Chiaki Takahashi
Tokyo Xanadu is due out for PS Vita in Japan on September 30.
View the screenshots at the gallery.