Tokyo Xanadu screenshots introduce Mitsuki, Zodiac organization
Meet the heir to the Hokuto Group.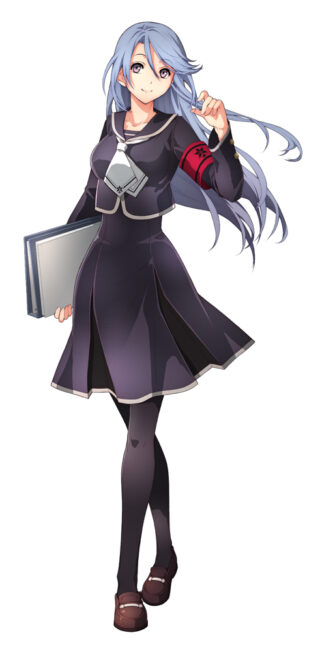 Falcom has put out a new set of Tokyo Xanadu screenshots, introducing Mitsuki Hokuto, the fifth party member to join Kou, Asuka, Sora, and Yuuki, her grandfather and secretary, and a new organization named Zodiac.
Get the details below.
■ Characters

Mitsuki Hokuto

18 years old. She is the student council president of Morimiya High School and daughter of the "Hokuto Group," Japan's leading enterprise. Generally, she has a kind and calm personality, but she's also skilled in the art of negotiation thanks to her leadership studies.

Mitsuki's father was supposed to succeed the Hokuto Group, but he died. Her grandfather, the current president, anticipates Mitsuki to take his place, and drags her into the issue of who will be the successor.

She seems to have some knowledge of the relationship between "Zodiac" and the Other World, as well as the organization Asuka belongs to.

Seijuroh Hokuto

70 years old. He serves as the current president of the Hokuto Group. His large build is often intimidating, and he has a fairly strict personality.

The death of his eldest son started an unsightly dispute over the company's successor among his other sons and daughters. But he has put his faith in his granddaughter Mitsuki, and is entrusting part of the business in Morimiya.

Kyouka Yukimura

27 years old. She is Mitsuki's entrusted "cool beauty" of a secretary. She can handle anything flawlessly, and is the perfect support to Mitsuki's work in Morimiya City.

She is one of the few people that Mitsuki is fine with showing her true feelings to, and when Mitsuki feels weak, she supports her like an older sister.

As a member of Zodiac, she has knowledge of the Other World, and in order to protect Mitsuki and the president, she regularly trains for battle.

■ Character Actions

Basic Attack

Mitsuki's basic attack fires several magic bullets from the ends of her cane-like Soul Device. These bullets diffuse radially, which make for a greater attack range. Since several magic bullets will simultaneously hit even when firing at point-blank range, depending on how its used, just her basic attack can provide enough fire power.

Shooting Skill: Innocent Edge

An attack where shining swords appear in mid-air and project forward. Normally, the projected swords will move forward in a straight line, but if you're locked on to the enemy, the trajectory is changed so that all your swords fly towards the enemy.

Flight Skill: Wonder Staff

An attack where Mitsuki sits atop her Soul Device like a witch on a broomstick and flies through the air at high speed while deploying magic circles.

Strength Skill: Hermit Shell

For a fixed period of time, a barrier expands around Mitsuki and protects her from every attack. While it's mainly for defense, it's also possible to damage enemies by touching them with the barrier.

Cross Drive: Chaos El Dorado

Mitsuki's Cross Drive begins by firing white and black bullet from the ends of her Soul Device. After that, the bullets fuse to create a huge golden magic sphere that launches forward at the enemy.

■ Zodiac

70 years ago, at the dawn of the technological revolution, the world's economies and businesses were lead by a union of 12 corporate giants. They had the influential power to exceed national frameworks with their stance of utilizing the Other World, but avoiding intervention in the surface world, they basically carried on without interfering with cross-national conflicts.

While the participating companies of each nation are in mutual cooperation with each other, there is also competition in the fields of new energy, the Doryoku Network, the Xiphone, and high-tech materials obtained from the Other World.

Two of Zodiac's groups are based in Japan—the Hokuto Group and Amano Works. Hokuto has been a key member since Zodiac's inception, but Amano took the place of Suruga Heavy Industries, which was part of Zodiac as of several years ago.

While Zodiac often cooperates with Nemesis in the fields of new technologies and Soul Devices, they didn't have any conflicts until the secret feud over the treatment of the Other world.
Tokyo Xanadu is due out for PS Vita in Japan on September 30.
View the screenshots at the gallery.