Screenshots of Gaijinworks' cancelled Far East of Eden: Ziria localization
"Never say never" regarding The Apocalypse IV localization, though.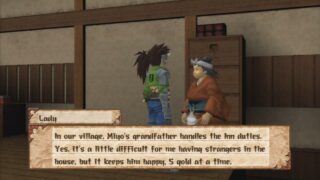 Gaijinworks were once working on a localization for Hudson Soft's Xbox 360 remake of Far East of Eden: Ziria. It was cancelled, but studio founder Vic Ireland provided screenshots this weekend of the English version that once was.
The remake of the 1989 PC Engine RPG is based on the legend of Jiraiya. It launched for Xbox 360 in Japan on March 23, 2006.
"We couldn't get past Microsoft's ridiculous publishing minimums and other restrictions to make it happen and had to abandon it," Ireland said in response to a fan on Gaijinworks' official forums.
Ireland added, "I've said many times I would dearly love to do [Far East of Eden: The Apocalypse IV]. That's still true. Never say never. It's a crazy business."
The Apocalypse IV originally launched for Sega Saturn in 1997. A PSP remake launched in Japan on July 13, 2006.
As far as Ziria goes, Ireland says it's a "bummer," but that it was "a weak port of a once-great game, so maybe it's for the best."
Thanks, NeoGAF.