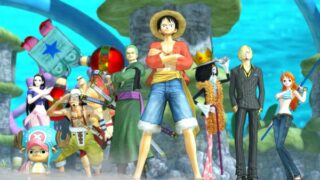 One Piece: Pirate Warriors 3 will launch for PlayStation 4, PlayStation 3, PS Vita, and PC in the Americas on August 25 and in Europe, Middle-East and Australasia on August 28, Bandai Namco announced.
A new set of screenshots released today introduce the fully-featured "Fish-Man Island," where Luffy and his friends will face the infamous Hordy Jones and his horde of underlings. View the batch at the gallery.
Find a new trailer and the official fact sheet below.
Outline

Publisher: Bandai Namco Entertainment
Developer: Koei Tecmo Games
Platforms: PlayStation 4, PS3, PS Vita, Steam
Genre: Action/Musou
Players: 1 to 2 players (online/offline)
Rating: Teen / 12+ TBC
Release: Summer 2015
Texts: EFIGS
Voiceover: Japanese

About

Enjoy the original story of One Piece from Fuschia village, where everything has started, to the kingdom of Dressrosa, a mysterious island dominated by the evil Donquixote Doflamingo, known as the "Heavenly Demon".

Will your resolution be strong enough to defeat the most dangerous pirates, including Doflamingo and many more?

Gather every member of the Straw Hat Crew, like in the original story, sail to the most emblematic places and enter the most epic battles: Marineford, Fishman Island, Punk Hazard and Dressrosa!

Features

Re-experience the original story! From the departure from Fuschia Village to latest episodes of Dressrosa.
Number of popular characters weaving the story greatly increased! Now including Sabo, Doflamingo Donquixote, Fujitora, and many more!
The expertise of Koei Tecmo Games and Bandai Namco Games: the Pirate Warriors series is a reference in the Action Musou genre.
More action than ever with PS4: One Piece is now on PlayStation 4 and takes advantage of the astounding power provided to offer more enemies and more fast paced action than ever.
For the 1st time ever, One Piece is on Steam: The Straw Hat Crew explore a new territory with a PC release on Steam.