Mobius Final Fantasy introduces new characters Garland and Echo
Plus, more about special moves and abilities.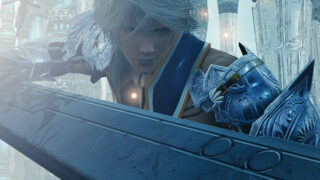 Square Enix has detailed two new characters set to appear in Mobius Final Fantasy, its upcoming Final Fantasy for smartphones due out this spring in Japan.
Get the details below.
Garland (voiced by Keiji Fujiwara)

A knight rich in knowledge and experience. He appears solemn and moves quietly, but he speaks bluntly and arrogantly. For some reason he has his eyes set on the main character as the Warrior of Light and guides him on that journey.

Echo (voiced by Sakura Tange)

A whimsical fairy who lives in the hills. According to hearsay among travelers, legend has it that following her guidance will lead to treasure. Normally, she is invisible, but for some reason she appears before the hero.

More About Echo

Fairy/Battle – Sometimes Echo will help out the player in battle by granting elements, recovering HP, casting haste, etc.
Fairy/Feature #1 – Echo has a number of costumes and visual variations which players can freely replace.
Fairy/Feature #2 – A Cactuar will appear and react to the battle circumstances, trying to get you to notice it's cute figure.

More About Special Moves

By using abilities and absorbing elements, you'll fill your "Special Move Gauge," allowing you to trigger job-specific Special Moves. That said, the effects of each move differ depending on the job, and various additional effects might also occur.

Warrior – Round Slash: A ranged attack that creates an arc by slashing. It also casts "Brave," which ups your strength.
Ranger – Dancing Edge: A simple attack in which the players slices the enemy. It casts "Burst," which ups your Break.
White Mage – Holy Prayer: A simple attack that heals HP and fires Ruin at the enemy. It casts "Regen," which heals your HP a little more.
Knight – Radiant Sword: A ranged attack where your sword lights up and you slash the enemy. It casts "Barrier," which ups your defense.

More About Abilities

Card: Fenrir / Ability: Shadow Stitch – In addition to being a simple attack with the wind attribute, this also stuns the enemy.
Card: Ares / Ability: Flame Sword – A simple attack with the fire attribute. It covers are your sword with fire and strikes the enemy.
View a new set of screenshots at the gallery.