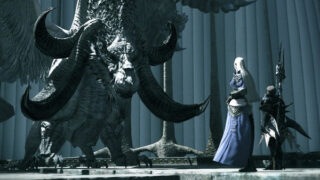 Square Enix has unveiled the main theme song for Final Fantasy XIV: Heavensward, its upcoming expansion to Final Fantasy XIV: A Realm Reborn.
The theme song, titled "Dragonsong," was composed by Nobuo Uematsu and features vocals by Susan Calloway, who previously recorded the "Answers" theme for A Realm Reborn.
Additionally, Square Enix released two new trailers showcasing Heavensward's new job actions and dungeons.
Final Fantasy XIV: Heavensward is due out for PlayStation 4, PlayStation 3, and PC on June 23, with pre-orders gaining early access on June 19.
Check out the theme song and new trailers below. View a new set of screenshots at the gallery.
Dragonsong
Dungeon Crawl