The Great Ace Attorney details cross-examination
Cross-examine several witnesses at the same time.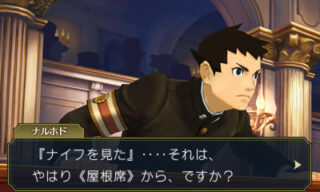 Capcom has released new details and screenshots for The Great Ace Attorney, detailing the game's courtroom cross-examination parts.
Get the information below.
"Shake" the Witness

The prosecutor prepares a witness for the lawyer to interrogate. In this game's court, several witnesses take the stand to testify together. Nonetheless, the lawyer is tasked with questioning them. Even if the testimony is without suspicion, shake the witness. When you "shake" the testimony, you can sometimes draw new details and information that supplement the evidence. In your pursuit for the truth, collect information as your weapon.

Quickly "Cross-Examine" Suspicious Reactions

In this game's court, you'll question multiple witnesses together. During the testimony, there may be a witness that reacts suspiciously. At this point, you must react quickly by switching over to the witness and cross-examining them. This might help you obtain a new testimony from a different witness.

Objection!

If you find a lie that contradicts the evidence, you can point out and thrust at the testimony. From here the truth will become clear. If you fail to thrust, the five marks in the upper right of the screen will decrease one by one. When all of them are gone, you'll lose the case and be found "guilty."
If you missed it, catch the latest trailer (subbed in English) here.
View the screenshots at the gallery.