Splatoon dated for May 29, Amiibos announced
Inkling Boy, Inkling Girl, and Inkling Squid Amiibos planned.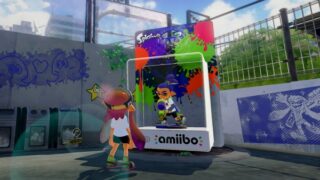 Splatoon will launch for Wii U in North America on May 29 and Europe, Nintendo announced.
The company also detailed the paint shooter's "Ranked Battle" and "Battle Dojo" modes, which are available for players in addition to the previously detailed single-player and online "Turf War" modes.
Ranked Battles ranks and matches players based on their wins in four-on-four multiplayer matches.
The Battle Dojo lets players enjoy one-on-one local battles with friends. One player uses the GamePad controller, while the other plays on the TV using a separate controller, competing to see who can pop the most balloons.
Additionally, Nintendo will release Inkling Girl, Inkling Boy, and Inkling Squid Amiibo figures alongside the game. All three will be available in a single pack, or you can buy the Inkling Boy and Inkling Girl individually. By tapping these Amiibo to the GamePad, players can receive special missions to unlock weapons and gear.
Watch a new trailer below. View a new set of screenshots at the gallery.