Retro City Rampage DX PS Vita physical edition announced
Pre-order for $30 at Fangamer now.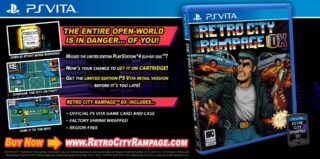 A physical edition of Retro City Rampage DX is now available for pre-order at Fangamer for $30.
The physical edition includes a retail-exclusive gold themed PS Vita Live Area art, as well as a new icon and seal. Save data from the digital version will be compatible with the retail version, as well. The retail version is also the only PS Vita game without an ESRB rating, which saved developer Vblank Entertainment big production costs.
Thanks, PlayStation Blog.