Persona 4: Dancing All Night screenshots
Official PlayStation Japan page opened.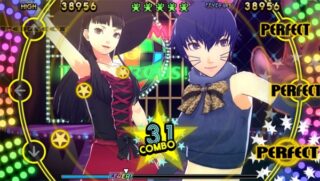 PlayStation Japan has opened its official product page for Persona 4: Dancing All Night, providing a further detailed story summary and new screenshots of the PS Vita rhythm game.
The story is as follows:
Having returned to the city, Rise Kujikawa sends "a certain request" to the protagonist (Yu Narukami). Rise wants her friends to become backup dancers in an event aimed at launching her back into the world of show business.

So the members of the Special Investigation Team practice and raise their skills, despite not really getting used to it. But during that, Yu and company are dragged into a different world after testing a certain rumor going around.

This ominous world is called the "Mayonaka Stage." In this world, Persona attacks, or every type of attack for that matter, have no effect. However, the team notices that dancing has an effect on the Shadows that lurk this world, and in order to save Rise's juniors who've gone missing, they must win and move forward on the Mayonaka Stage.
If you missed it, the game's initial story summary details more about the rumor, which revolves around an internet video that transports viewers to the Mayonaka Stage.
Persona 4: Dancing All Night is due out for PS Vita on June 26 in Japan and later this year in North America.
View the screenshots at the gallery.