Nitroplus Blasterz opening movie
Nitroplus fighting game due out in arcades this spring.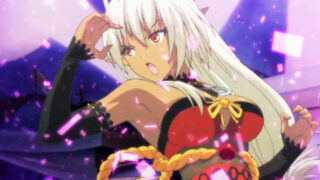 Nitroplus has released the opening movie for its spring-due arcade fighting game Nitroplus Blasterz: Heroines Infinite Duel.
The video includes the theme song "Shakunetsu," which features lyrics by Ken1, composition by Hideki Sakakibara, and vocals by Vertueux.
The fighter will launch in Japanese game centers this spring with eight playable characters and 13 partner characters.
Here's the starting lineup:
Playable Characters

Ein (Phantom Phantom of the Inferno)
Mora (Kyuuketsu Senki Vjedogonia)
Ruili (Kikokugai: The Cyber Slayer)
Al Azif (Demonbane)
Saya (Saya no Uta)
Ignis (Jingai Makyo)
Anna (Gekko no Carnevale)
Sansei Muramasa (Full Metal Daemon: Muramasa)

Partner Characters

Natsumi Aibara (Hello, World)
Anri (Tenshi no Nichou Kenjuu)
Ishima Kaigen (Hanachirasu)
Dragon (Dra+Koi)
Another Blood (Kishin Hishou Demonbane)
Franco Il Nero (Zoku Satsuriku no Django: Jigoku no Shoukinkubi)
Supika (Star Mine Girl)
Sakura (Axanael)
Carol (Guilty Crown: Lost Christmas)
Miyuki Sone (Kimi to Kanojo to Kanojo no Koi)
Aoi Mukou (Kimi to Kanojo to Kanojo no Koi)
Althea (Hakubou no Dendoushi)
Yoishi Mitsurugi (Phenomeno)
More characters will be added post-launch via network updates.
Watch the opening movie below.