Nine minutes of Trine 3 gameplay
See how 3D impacts the upcoming sequel.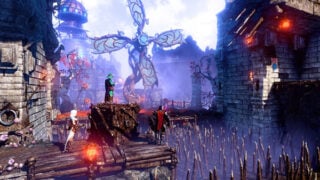 IGN has posted a nine-minute gameplay video of Trine 3: The Artifacts of Power, Frozenbyte's recently announced sequel that takes the side-scroller to 3D.
All three characters—Pontius the knight, Zoya the thief, and Amadeus the wizard—are showcased. You'll see how they can interact and move around the game's stages both sideways and depth-wise.
The game is planned for launch on PC later this year, with other platforms to follow.
Watch the footage below.