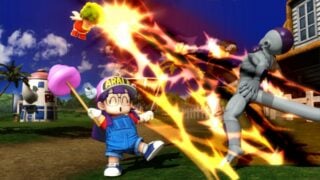 J-Stars Victory VS+ will launch for PlayStation 4, PlayStation 3, and PS Vita in North America on June 30 and Europe on June 26, Bandai Namco announced.
In North America at GameStop and in Europe, the game will have an exclusive pre-order edition including a compendium with 52 character arts, as well as downloadable themes across each PlayStation platform.
Get the official fact sheet below:
The Most Famous Original Manga/Anime Stars are Ready to Fight!

Celebrating the 45th anniversary of the "Shonen JUMP" magazine and the 20th anniversary of the "V JUMP" magazine in Japan, a never before seen fighting game has been developed! J-Stars Victory VS+ invites fans and gamers to play with their favorite manga/anime characters and progress in the JUMP World through different environments recalling Naruto, Dragon Ball Z, One Piece and other memorable moments. For every Manga and Anime fan, J-Stars Victory VS+ is jam packed with long hours of intense and amazing battles and a must-have addition to their videogame collection!

Features

1st Time Outside Japan – A unique game combining licenses in the famous JUMP magazines is releasing for the first time outside of Japan!
Incredible Roster – A huge choice of characters coming from the most famous mangas/animes issued in the JUMP Magazine.
JUMP World – The world where the adventure takes place offers 4 different scenarios in which players can travel in memorable places like "Alabasta", "Hidden Leaf Village" and "Planet Namek".
Epic Battles – With the 2 vs. 2 team battle system, fights are going to be tough, strategic and exciting. Each character possesses his own specifications and attacks coming from the manga/anime. The game also adds special moves called "Combination Attack" and "V-Voltage System" – making battles even more aggressive.
Arcade Mode – An Arcade Mode has been added to the game in the same vein as other fighting games.
Stunning Graphics – A PlayStation 4 version of the game is releasing for the first time, offering the best possible experiences and plunging players into the Manga/Anime world.
Watch a new trailer below. View a new set of screenshots at the gallery.
North America Trailer
Europe Trailer