Halo 5 GameStop pre-orders include Spartan Locke armor set
Watch the 60-second teaser video.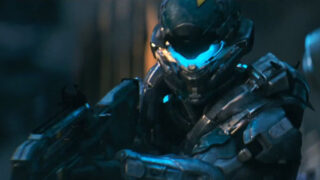 Pre-orders for Halo 5: Guardians at GameStop will include the "Spartan Locke Armor Set" for multiplayer, Microsoft announced.
Here's the full outline, via GameStop:
Pre-Order Halo 5: Guardians and receive the GameStop Exclusive Spartan Locke armor set Helmet and Armor DLC for Multiplayer!

Fans who reserve Halo 5: Guardians at GameStop in the U.S. will get access at launch* to the pre-order exclusive Spartan Locke, HUNTER-class armor set for use in multiplayer**, including:

HUNTER-Class Armor: Sophisticated and lethal, HUNTER-class armor incorporates Watershed Division's latest warfighting technology.
HUNTER-Class Helmet: Though still considered a prototype implementation, the HUNTER's sensor suite enhances situational and threat awareness

* In-store preorder: code is printed on receipt; online preorder: code is emailed


** Xbox Live Gold membership (sold separately) required. Guarantees access to helmet and armor set at launch
Pick up code at time of purchase. While supplies last. Artwork may not be representative of final in-game content. Internet connection required to access.
Halo 5: Guardians is due out for Xbox One on October 27.
Watch the teaser video below.
https://www.youtube.com/watch?v=29fUIsRuEZI