Fire Emblem If slated for 2016 release
Will you follow your bloodline or your loyalty?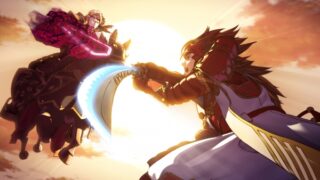 The next Fire Emblem game for 3DS, titled Fire Emblem If in Japan, will launch for 3DS in North America and Europe in 2016, Nintendo announced.
In Japan, the game will launch on June 25.
The main character will be a customizable avatar created by the player. This time, your created character is the game's main characte, rather than a secondary character like previous titles.
The story sees the Hoshido and Nohr kingdoms at war. It's up to the player to decide which side to take—whether to follow their bloodline versus their loyalty. There are two sides to every story. The path you choose ultimately decides your character's fate. No matter what, the world and characters will be the same. But depending on your decision, the story lines and outcomes will be different.
The Hoshido path is the more traditional one. Because this path story is more similar to previous games, it's a bit more accessible. The Nohr path has players forced to revolutionize an unruly kingdom from the inside. The story is more complex and the difficulty more challenging.
In Japan, the game will be released as two titles, Fire Emblem If: White Kingdom and Fire Emblem If: Black Kingdom, for 4,700 yen each. If you buy one version, you'll be able to purchase the other for 1,852 yen as downloadable content game. A large part three is also planned for release at the same price somewhere down the line. A limited edition version of the game including all three scenarios will be available for 9,250 yen.
Watch a new trailer below. View a new set of screenshots at the gallery.