Final Fantasy IV: The After Years 3D remake coming to Steam in May
Watch the Visual Works-made trailer.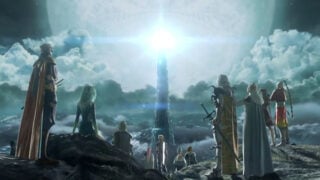 The 3D remake of Final Fantasy IV: The After Years is coming to PC via Steam on May 12, Square Enix announced. Pre-orders include a 10 percent discount.
The game, originally launched for PSP and WiiWare in 2D, and later for iOS and Android in 3D, takes place 20 years after the events of Final Fantasy IV. Classic characters from the original game return alongside several new heroes, including Cecil and Rosa's son Ceodore.
The Steam version will include Steam Achievements an Steam Trading Cards.
Get the trailer and fact sheet below. View some screenshots at the gallery.
Story

Seventeen years have passed since the war's end, and the son born to King Cecil and Queen Rosa of Baron has grown into a young man. Prince Ceodore has enlisted in the airship fleet known as the Red Wings, eager to meet the expectations demanded of his blood and station. Yet once more another moon has appeared in the sky, and with it vast hordes of monsters intent on destruction. The brief peace enjoyed by the Blue Planet now stands threatened under the shadow of impending catastrophe.

Key Features

Ten Playable Chapters – Begin your journey with "Ceodore's Tale." Complete it to unlock the chapters of six additional characters, which can be played in any order, and then return to the core story with "Kain's Tale," "The Lunarian's Tale," and "The Crystals." Final Fantasy IV: The After Years features the extensive story of all ten chapters.
Active Time Battle – Take control of exhilarating combat made possible by the non-stop action in Square Enix's iconic battle system.
Lunar Phases – Feel the moon's presence in combat, as its waxing and waning influences the potency of attacks and abilities of all combatants. Lunar phases cycle naturally with the passage of in-game time, or when resting at an inn, tent, or cottage.
Band Abilities – Combine the strength of your party members to awesome effect with Band abilities that can be unlocked through in-game events or by leveling your characters' Affinity.
Steam Trading Cards and Achievements