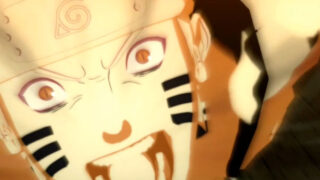 Bandai Namco has released a new video interview with CyberConnect2 president and CEO Hiroshi Matsuyama discussing the new features, movie integration, and battle type adjustments of Naruto Shippuden: Ultimate Ninja Storm 4.
Get the quotes below.
New Features

"Including free battles, this time around we're going to renew the battle system. We've constantly made improvements, but this time, the biggest change out of all was made to the Leader Change system.

"Up until now, the team was comprised of the main and two other supports, but now each one of them is playable and can fight fluidly… with the Leader Change system. To add, each of them can use Ultimate Jutsu and Awakenings, so it'll be a very robust and extravagant feature.

"And another thing – Story Mode. I'm always asked whether there's going to be a boss battle and my answer to that this time – yes! With the manga series finished, I'm planning to showcase up until the climax of the series with a level of super-animation unlike never before, so please do look forward to it!"

"Third is the online mode. I can't go into details yet, but we're coming up with features to extend the longevity of the game even after clearing the game, so please do look forward to it."

The Last: Naruto the Movie Integration

"I've expressed that Naruto, Sasuke, Sakura, and Hinata will make an appearance from the movie, but this time, Hinata's younger sister, Hyuga Hanabi, will take the stage, and like in the original series, she inherited the powers from the main line of the Hyuga clan, so she's more gifted than Hinata. So we're planning to use her smaller stature to maker her into a character that can move in spurts, is speedy, and able to unleash quick, Gentle Fist moves.

"And one other thing, we announced a number of new Combination Ultimate Jutsus that received positive feedback from the last game, so this time, if you team Naruto and Sasuke from The Last, they can unleash their very own Combination Ultimate Jutsu, so I'm looking forward to everyone giving them a try.

Taking Feedback into Consideration

"Well, there are a few. Let's see this isn't strictly in regards to only Revolution, but we're constantly receiving and looking into everyone's feedback and applying them to our new features, but, how can I put this… The last time we did a survey for Revolution regarding Combination Ultimate Jutsus, we received feedback between pairings which place emphasis on the original story and pairings based on "what if" cases, and we found out that most people didn't care too much of the "What if" scenarios and we found that most seemed to prefer pairings that follows the story background, so this time we placed emphasis on preparing pairings based on the original story and applied it beyond the Combination Jutsus, as well.

"And we received a lot of feedback on the battle system. In particular was Guard Break and 'atemi,' or Counter Attack. In regards to these, I got feedback from many who said to just drop and get rid of it. Others said it should stay because it's a critical part of strategies, and others conveniently asked for a better balance. We get a lot of feedback, so we're trying to balance it out to the best we can, so it probably won't be the same as before, but I'm hoping everyone will look forward to what we can bring out.

"We're listening to all your voices, with them reflected to the vision of the game, so please see the results in the upcoming Storm 4 game.

Battle Type Adjustments

"Yeah, I get it! I've been blasted by everyone from around the world! I thought the new feature of adding three [battle] types to choose from [in Naruto Shippuden: Ultimate Ninja Storm Revolution] would make everyone happy, such as with how you can use Naruto differently in battle, but a lot of you slammed me saying that's not good! Everyone complained how crucial it is to access Ultimate Jutsus, Awakenings, and Drives. Sure, whatever! It'll be back to how it was before!

"So for Storm 4, the Ultimate Jutsus, Awakenings, and Drives aren't separated! Use them to your liking! You can even use Leader Change to use each team member's Ultimate Jutsus and Awakenings! You can do Leader Changes even in Awakening! Like, while you're huge! We made sure we came back with a feature that will satisfy your desires, so please stay tuned!"

Message for Fans

"Well I think I speak for us all here, but November 10 of last year marked the end to the Naruto manga series. We're saddened by this, just like everyone else. But still, even after that, there's going to be the movie, The Last, and from April in Japan, a spin-off manga is going to launch, and in summer, Naruto's son, Bolt, is going to appear in a movie all in the name of bringing in a new generation. So even if the manga series has ended, it still feels like Naruto is still continuing to expand its world. So with that said, together with everyone's support, we want to help promote and have fun with Naruto through our game, as well. Storm 4 is planned for release this fall. I'm looking forward to your support."
Watch the video interview below.