Senran Kagura producer leads PS Vita game for new Valkyrie Drive mixed media project
TV anime and smartphone game also included.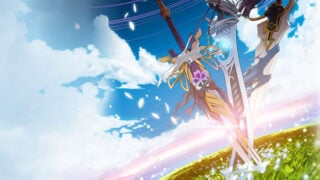 Marvelous announced its new Valkyrie Drive project, first teased in January, at AnimeJapan at Tokyo Big Sight today.
The project consists of three works, including a TV anime, PS Vita game, and social game. Get details on all three below.
TV Anime
Featuring character designs by Hiraku Kaneko, management by Yosuke Kuroda, and production by ARMS, Valkyrie Drive: Mermaid takes place on Mermaid, one of five artificial islands, where "sexy battles" between beautiful girls unfold.
Revealed characters include:
Maiden Mamori – Mikaki Izawa
Mirei Shikishima – Yuka Iguchi
An air date was not announced.
PS Vita Game
Valkyrie Drive: Bhikkhuni's staff includes:
Revealed characters include:
Ranka Kagurazaka – Kanae Ito
Rinka Kagurazaka – Aya Suzaki
A release date was not announced.
Update: While Dengeki Online's initial report listed the game for PS Vita, it's since been changed to simply a "consumer game." That said, it was likely posted earlier than it should have been.
Social Game
Set on the artificial island of "Siren," Valkyrie Drive: Siren begins a fight that puts the lives of its young maidens at stake. It will be free-to-play with micro-transactions, and ties into the stories of the TV anime and PS Vita game.
Revealed characters include:
Setsuke Kisaragi – Ayaka Ohashi
Urara Sashou – Azusa Tadokoro
A release date was not announced.
Visit the project's official website here.
Thanks, Famitsu.