Persona 4: Dancing All Night basic actions tutorial videos
Plus, screenshots of the Loppi/HMV-exclusive Lawson costumes.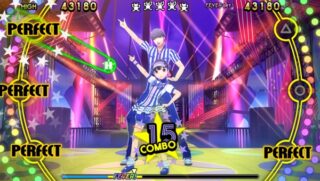 Rather than a character trailer, this week's Persona 4: Dancing All Night footage is made up of two tutorials from Teddie.
The pair of clips see Teddie introduce the game's basic operations, such as pressing the indicated buttons to match the notes flying on screen, as well as unison notes and hold notes.
Additionally, Loppi/HMV has gone up with screenshots of their "Lawson Original Costume" downloadable content included with copies of the game purchased at their stores. The set includes Lawson worker outfits for Yu Narukami, Nanako Dojima, and Kanami Mashita.
Persona 4: Dancing All Night is due out for PS Vita in Japan on June 25.
Watch the tutorial videos below. View screenshots of the costumes at the gallery.