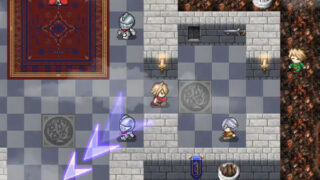 Spike Chunsoft has released the debut trailer for Mystery Chronicle: I Won't Look Back Until I win, its newly announced "forced scrolling RPG" for PlayStation 4 and PS Vita due out this summer in Japan.
The roguelike RPG features turn-based movement and randomly generated worlds, and forcibly scrolls from the left of the screen as the world is slowly swallowed by a mysterious light that ends the game if it touches the hero.
Here's the official outline:
Story

Somewhere, there was a world without a name. Kings of nations continued to battle every day to make this world their own. Among them, the nation of King Conras was invincible, and continued to rule this world. Even so, a great incident threatened the once invincible kingdom. And suddenly, the Messenger of Calamity landed in this world.

The Messenger of Calamity came with a Light of Despair, which very quickly began spreading throughout the world, swallowing up living things one after the other. And now, the Light of Despair… it is approaching the castle where the king and a certain child are.

Features

Forced Scrolling RPG – Once players are swallowed by the Light of Despair known as the "Shine Raid" looming on the left edge of the screen, the game is over. Players should efficiently search the map while escaping from the light that moves closer for every action.
Countless Adventure – Players can give the game world a name before setting out each time, with the terrain, items, and enemies being generated accordingly based on the name provided. As a result, players across games are free to either visit the same worlds time and again by entering the same names, or they can opt to always set out on new adventures instead by providing a different name for their world each and every time.
Events – As you meet new allies and level up, you'll receiving blessings from a goddess, get ambushed by thieves, and temporarily increase item drop rates. There are various events you'll encounter during your adventure.
Various Classes – There are more than 20 playable classes. By using up points earned by playing the game, the amount of classes you can choose between will increase. Each class has different initial equipment and ability scores, as well as unique skills they can learn.

Staff

General Producer – Yoshinori Terasawa
Producer – Yuichiro Saito
Watch the trailer below. View a set of screenshots at the gallery.
Visit the game's official website here.