Kan Colle Kai screenshots detail game systems
PS Vita adaptation of popular browser game due out in August.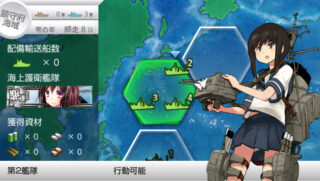 Kadokawa Games has released a new set of screenshots detailing the main systems of Kan Colle Kai, coming to PS Vita in Japan on August 27.
Get the information below.
1. Strategy Screen

The areas of the sea are depicted as big hexagons, and the various fleets within each area are shown as silhouettes. This "Strategy Screen" is one of the major features of Kan Colle Kai. From here, you can transition to the familiar "Admrial Room."

2. End Turn / Movement

On the left side of the Strategy Screen, you'll be able to access your commands, including "Sortie," "End Turn," and "Move." Kan Colle Kai is being developed as a turn-based standalone-type game.

3. Modification Screen

Players familiar with the browser game will recognize the "Modification Screen." The PS Vita version offers a new, monotone-based user interface. In addition to the basic parameters of your Kanmusume (Fleet Girls), there are also icons for your "Fuel," "Ammunition," "Steel," and "Bauxite" at the top of the screen.

4. Equipment Change

Equipment can be changed from within the Modification Screen. Your Kanmusume's equipment is classified under categories such as "Main Armament," "Torpedo," "Machine Gun," "Radar," and "Hydroplane." Equipment selection is depicted in a sphere that rotates around the Kanmusume.

5. Transport Fleet / Sea Guard Unit

Players can deploy "Sea Guard Units" to protect "Transport Fleets" as they travel between the sea and their home ports. Combining these elements of the ocean, a turn system, fleet movement, Transport Fleets, and Sea Guard Units make for a game a bit more simulation than the original.

Pre-Orders

Pre-orders for Kan Colle Kai will include a Kan Colle Kai original pouch.

A 9,800 yen limited edition will include:

Original Medicchu figures of Ooi and Kitakami
The pre-order bonus pouch
Other bonuses also planned

The standard edition costs 5,800 yen.
The above screenshots, as well as the PS Vita game's key visual artwork, are also available at the gallery.