Freedom Planet coming to Wii U eShop
Combat-based platform adventure en route to Nintendo console.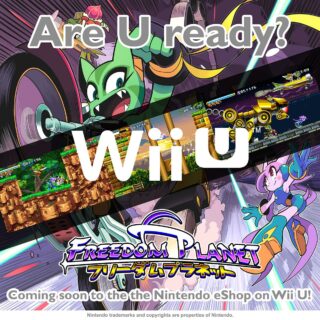 GalaxyTrail is bringing Freedom Planet, its Sonic the Hedgehog-inspired combat-based platform adventure game for PC, to the Wii U eShop, the developer announced at PAX East.
Here's a full rundown of the game, via its Steam page:
About

Freedom Planet is a combat-based platform adventure that pits a spunky dragon girl and her friends against an alien attack force. There's trouble around every turn, from insects to giant robots to sheer explosive destruction, but you'll have a variety of special fighting abilities to blast your way through each stage.

As Lilac, you can use Dragon powers to whip enemies with your hair, spin like a cyclone, or fly through the air at high speed like a comet.
As Carol, you can bust through foes with a flurry of punches and kicks or summon motorcycles that let you ride up walls and ceilings.

Do you have what it takes save Avalice? Try the demo and see for yourself!

Features

Dash across the celestial world of Avalice with boosts, bikes and other high-speed gimmicks to achieve the fastest time
Explore at your own pace to find hidden paths and treasures and collect as many crystals as possible
Help Lilac and friends save their world from war in an engaging Adventure mode with fully voiced cutscenes
Zoom through the stages without interruption or dialog with Classic mode
Battle tons of quirky boss enemies including giant robots, towering alien creatures and aggressive rivals
Discover five elemental shields that reflect specific attacks and provide cool benefits
Unlock special bonuses, including mini-games, achievements, artwork and music
Other than "soon," a release date for the Wii U version was not announced.
Watch an old trailer below.