CyberConnect2 teases news in next week's Famitsu
The truth behind the Naruto developer's "new challenge."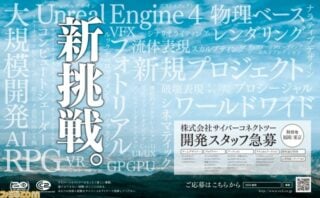 CyberConnect2 has an advertisement in this week's Famitsu recruiting staff for a "new challenge" the company is taking on. All across the two-page spread are phrases like "Unreal Engine 4," "RPG," "new project," "worldwide," "photo-realistic," "cinematic," "GPGPU," and such.
In an online article today, Famitsu received comment from CyberConnect2 president Hiroshi Matsuyama, who said, "Right now, I can't say anything. However, in next week's Famitsu, I'll talk about it in full!"
Famitsu teases that the truth behnd this "new challenge" will be shared in a 15-page special feature on CyberConnect2, which is celebrating its 20th anniversary this year. Of course, we'll also hear the latest on CyberConnect2's announced projects: Naruto Shippuden: Ultimate Ninja Storm 4, JoJo's Bizarre Adventure: Eyes of Heaven, and the mobile game Fullbokko Heroes X.