Accumulate currency for costumes in Persona 4: Dancing All Night
A rather detail-lacking update on the upcoming rhythm game.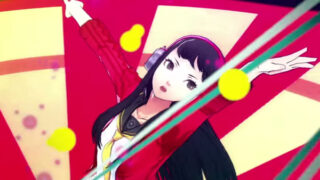 Famitsu this week has first screenshots of Yukiko Amagi and Naoto Shirogane as they appear during battle scenes in Persona 4: Dancing All Night.
Following the events of Persona 4, the protagonist and Naoto both left Inaba, but reform their Investigation Team after an idol mysteriously disappears.
Since any form of direct attacking on the Midnight Stage is negated, the Investigation Team stages their counteroffensive with singing and dancing.
Players will accumulate in-game currency by progressing through Story Mode, which will allow the purchase of new costumes and items.
Persona 4: Dancing All Night is due out for PS Vita in Japan on June 25 and later this year in North America.
Thanks, Hachima Kikou.