Xenoblade Chronicles X footage previews different times and weather
A look at the various expressions of Planet Mira.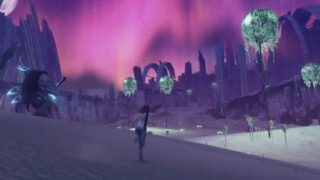 Nintendo has released new footage of Xenoblade Chronicles X looking at its world during various times of day and weather conditions.
Planet Mira will change its expression constantly with the passage of time, from early morning to morning, afternoon, evening, night, midnight, and so on. And with the passage of time, the people of New Los Angeles will also go about different directions, and it will be easier to encounter dangerous creatures.
As for the weather, conditions on Planet Mira range from clear to cloudy, rain, thunderstorm, aurora, rainbow, and so on. In some cases, you might also encounter special weather like heatwaves and sandstorms.
Xenoblade Chronicles X is due out for Wii U on April 29 in Japan and later this year in North America and Europe.
Watch the video below.