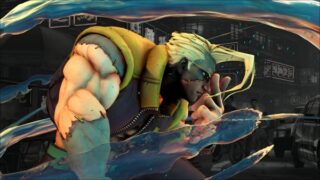 Capcom has released a new trailer and set of screenshots for Street Fighter V introducing the previously teased Charlie Nash.
Here's a quick history lesson, via Capcom:
First mentioned in Street Fighter II: The World Warrior (1991) by Guile during his quest for revenge; Nash was a lieutenant in the U.S. Air Force and one of Guile's best friends. Although it was hinted that M.Bison was involved in Charlie's disappearance in the past, it was never really fully explained…

…Until the Street Fighter Alpha series, that is. In Street Fighter Alpha II (1996) we see firsthand that a helicopter controlled by M.Bison's forces make quick work of Nash as M.Bison gets away. Initially presumed to be dead by both friends and foes alike, Nash's return shows that his story is far from over.
Additionally, Capcom announced that it is planning "the most ambitious online beta program in franchise history" for Street Fighter V on PlayStation 4 and PC. In North America, consumer who pre-order the game will be automatically enrolled. Entry details for Europe have not been announced. More details, including timing on the beta program, will be revealed at a later date.
Watch the new trailer below. View the screenshots at the gallery.