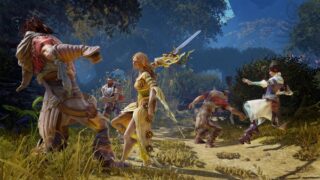 Fable Legends, due out later this year for Xbox One and PC, will be a free-to-play title, Microsoft and Lionhead Games announced.
Similar to League of Legends, the base game includes four different heroes to play for free. Every two weeks, the four free heroes will be swapped out and replaced by a new group. Players can unlock heroes for permanent use by spending in-game currency or real world money.
You'll also be able to play as the villain. Villain players progress through the story arc just as hero players do. Each quest includes creatures native to that quest, which are free orever. However, if you return to that questand want to use creatures not native to that quest, you'll need to unlock them with in-game currency or real world money. The same goes for traps, gates, and standing stones (which grant area of effect health).
Chests guarantee a specific quality of random items, including weapons, augments, armor, items, potions, and silver. Again, these items can also be purchased in town for in-game currently or real world money.
New heroes, creatures, quests, and arch villains will hit Fable Legends in seasons. It's aiming to tell the game's story in a Telltale-style episodic structure.
For more information, Eurogamer has an interview with Lionhead Studios' boss John Needham on the series' shift to free-to-play, as well as cross-play between Xbox One and PC.
View a new set of screenshots at the gallery.