Persona 3 the Movie #3 dated for April 4
Ryoji Mochizuki makes his entry in Falling Down.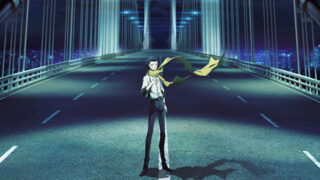 Persona 3 the Movie #3: Falling Down will launch in Japanese theaters on April 4, Atlus announced.
Find a list of theaters here.
The movie features the arrival of Ryoji Mochizuki, a "mysterious transfer student" in the same class as the protagonist Makoto and friends. He has a bright personality and can easily approach women, but Aigis becomes vigilant of him after their first meeting.
A 3,000 yen theme song CD set will also be released in February. It will include a movie ticket and the "Light in Starless Sky" theme song CD, featuring the following four tracks from Yumi Kawamura and Lotus Juice:
"Light in Starless Sky"
"Sakerarenu Tatakai -Power Mix-"
"Living With Determination -Mellow Velvet Mix-"
"Light in Starless Sky -Karaoke Ver.-"
The CD set will be available at Jika Net as well as at next month's "Persona Super Live 2015" event.
Thanks, Games Talk.