New 3DS coming west on February 13
Includes 4 gigabyte Micro-SD card, doesn't include AC adapter.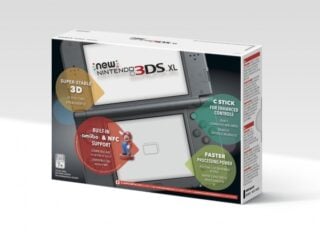 New Nintendo 3DS will launch in North America an Europe on February 13, Nintendo announced during its Nintendo Direct broadcast this morning.
In North America, the system will be available only in XL format in both red and gray color variations. In Europe, the system will be available in both standard (black and white) and XL (gray and blue) formats.
The updated version of the 3DS boasts an enhanced CPU, 3D stabilization, a C-Stick, ZR, and ZL buttons, NFC communication for Amiibo interaction, longer battery life, and automatically adjusts the brightness of the screen based on lighting conditions. The system also uses smaller Micro-SD cards. A 4 gigabyte Micro-SD card will come bundled with the hardware. The system will not include an AC adapter, but any DSi, 3DS, or 2DS AC adapter is compatible.
Games that have made use of Circle Pad Pro add-on, such as Resident Evil: Revelations, will be compatible with the new C-Stick.
Watch a trailer below. View some product shots at the gallery.