Etrian Mystery Dungeon U.S. release date set
Watch the new Landsknecht trailer.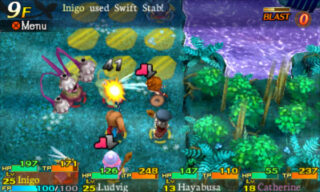 Etrian Mystery Dungeon will launch for 3DS in North America at both retail and digitally on April 7, Atlus announced.
Pre-orders and first-run copies will include a bonus soundtrack CD.
A new trailer and set of screenshots released today introduce the Landsknecht, the "meat and potatoes" swordsman of the Etrian Odyssey series.
Here's Atlus' description:
With a modest amount of defense and some hard hitting damage, early parties will lean heavily on the Landsknecht for staying alive. With a few skills, Landsknechts can focus down enemies with devastating melee hits or whittle away at rooms full of critters with AOE attacks.
Watch the trailer below. View the screenshots at the gallery.