Ace Combat: Assault Horizon Legacy+ coming west next month
Plus version adds Nintendo aircraft skins, Amiibo support.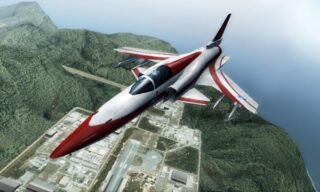 Ace Combat: Assault Horizon New Legacy+ is coming west both at retail and on the Nintendo eShop on February 13, Bandai Namco announced.
Here's the list of new features, via Bandai Namco:
Aircraft Collaboration with Nintendo – Customize real-life aircrafts with Nintendo famous characters such as Mario and Bowser. Each aircraft represents characters not only visually, but also in the parameter setting. Get the special Nintendo aircrats through famous "Question Blocks" from the Super Mario series. Find and attack it on the map and the "Super Star" will appear, giving you the aircraft.
Amiibo – Put Amiibo on the New Nintendo 3DS to unlock exclusive aircraft from the same character. (You will need to update the data of your New Nintendo 3DS XL to make it compatible with Amiibo.)
New 3DS C-Stick – Compatible with the New Nintendo 3DS C-Stick, ZR, and ZL buttons for better control on aircraft. Also with the new 3D image stabilization feature, 3D dogfights in the sky will be more enjoyable than ever.
Watch the announcement trailer and a set of gameplay videos below. View a new set of screenshots at the gallery.
Trailer
Gameplay