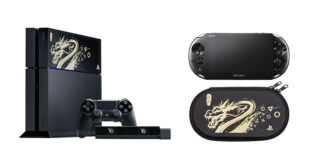 PlayStation will makes its debut in the People's Republic of China on January 11, 2015 with the release of PlayStation 4 for 2,899 RMB and PS Vita for 1,299 RMB, Sony Computer Entertainment announced.
Along with SCE Worldwide Studios, more than 70 third-party software developers and publishers are signed on to deliver a "steady stream" of games to China, including 26 Chinese developers. Confirmed China-developed games for PlayStation 4 include King of Wushu (Suzhu Snail Digital Technology), Mr. Pumpkin's Adventure (Shanghai Youju Information Technology), and One Tap Hero (Shanghai Kena Information Technology).
Sony promises it will actively provide support to Chinese game developers to continue bringing their content to PlayStation platforms.
Find the full list of confirmed developers bringing games to China below.
China (26 Companies)

BEIJING AURORA INTERACTIVE NETWORK TECHNOLOGY CO., LTD.
Beijing Chukong Technology Co. Ltd
BEIJING LIANZHONG CO.,LTD
Beijing Pixel Software Technology Joint-Stock Co.,Ltd
Beijing S-Game Software Technology CO.,LTD
Beijing SparkCube Co.,Ltd
CottonGame Network Technology Co., Ltd. Shanghai
Guang Zhou Net Ease Interactive Entertainment Co., Ltd
Kami Neko Studio
LinekongInteractiveCo., Ltd.
Onipunks (Beijing) Software Ltd.
Phoenix Publishing & Media, Inc.
Quakegame Limited(PRC)
Shanghai Giant Network Technology Co., Ltd
Shanghai Kena Information Technology Co., Ltd.
Shanghai Muhe Network Technology Co.,
Shanghai The9 Information Technology Co., Ltd.
Shanghai Youju Information Technology Co., Ltd.
Shen Zhen Ao Le Yi Jie Computer Software Limited Corporation
Suzhou Snail Digital Technology CO., Ltd
TianJin YiLong Network Technology Co.Ltd.
Westhouse Corporation Limited
Ying Pei Digital Technology (Shanghai) Co., Limited
Yushi Games Shanghai Co., LTD

Asia (21 companies)

North America and Europe (26 companies)