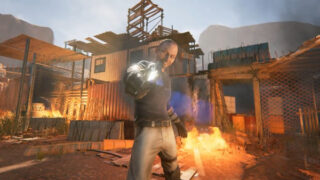 Robotoki revealed the world premiere trailer for Human Element, its upcoming "massive online multiplayer" game, during The Game Awards in Las Vegas.
The game is set 35 years after the zombie apocalypse and the fall of society. Factions of survivors all around the world have received coordinates to the last remaining supplies, and it is up to you to go and collect them while facing off against the zombie apocalypse's "greatest threat": the human element.
Human Element is coming to PlayStation 4, Xbox One, and PC in November 2015. Here's its description, via Robotoki:
35 years after a zombie apocalypse…

The remaining human population has created small faction aligned safe havens across the landscape. These outposts act as central hubs for the last remaining resources.

Define Yourself, Define Survival

Choose a hero unique to your playstyle and compete with teams of survivors to scavenge and escape with vital cache of resources while also using resources you've gathered to build fortifications and game-changing defenses.
Watch the trailer below.