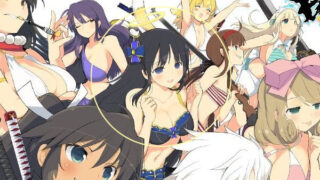 Famitsu this week reveals a new character set to appear in Senran Kagura: Estival Versus for PlayStation 4 and PS Vita.
Ryoki is the older sister to twins Ryobi and Ryona. She previously perished during a fight with a spirit, but is revived during the "Kagura Thousand-Year Festival." She hasn't entirely been brought back to life, however. She dons a halo over her head. A shotgun and great-shield as her weapons of choice, and she can apparently use her coffin instead of a launcher.
Her height is 171cm and her three sizes are 94H-55-89. She doesn't celebrate a birthday, but rather a death day. She also doesn't have a blood type listed. Her only interest is said to be "her younger sisters."
Senran Kagura: Estival Versus is due out in Japan on March 26.
Thanks, [email protected].