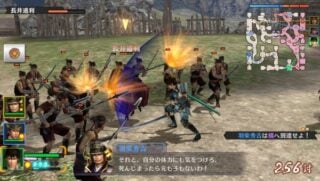 A demo for Samurai Warriors Chronicles 3 will be released tomorrow, November 6 in Japan, Koei Tecmo announced.
The "Battle of Nagara River" demo can only be played for eight minutes. If you download and play it, you'll be granted the "Demo Play Award" upon starting up the retail version when it launches, which will get you Oda Nobunyaga edit parts from the social game Nobunyaga's Ambition and in the 3DS version, Link and Zelda edit parts from Hyrule Warriors.
In addition to the demo news, first footage of the game running on New 3DS has surfaced. Watch it below. The full game is due out on December 4 in Japan.
Thanks, Games Talk.