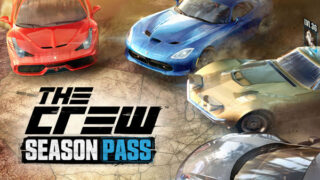 The Crew will launch for PlayStation 4, Xbox One, Xbox 360, and PC on December 2 alongside a $24.99 Season Pass.
The Season Pass will give buyers access to exclusive cars, car packs, missions, tuning kits, and stickers. Its full contents include:
Two exclusive cars – McLaren 12C and Ferrari 458 Speciale – available to Season Pass holders at launch
One-week early access for all add-on car packs content
Four packs, 12 cars total:

Extreme Car Pack- available January 2015, includes performance cars, perfect for exhilarating, high-octane missions
Speed Car Pack- available February 2015, includes sports cars, finely tuned for breakneck-speed races
Vintage Car Pack- available March 2015, includes vintage rides, fashionable for missions set in iconic American locales
Raid Car Pack- available April 2015, includes off-road vehicles, highly recommended for all-terrain missions

23 additional tuning kits unlocked to spec out the Season Pass car line-up for premium performance on any terrain
All official paintjobs and rims for each car
An exclusive sticker delivered with each car pack
Purchased separately, each of the four car packs listed above cost $6.99 (for a total of $28 all together).
Additionally, today marks the start of The Crew's closed beta, which will run until November 10 on PlayStation 4 and Xbox One. The beta is opened to those who pre-ordered the game. Otherwise, you can register for a chance to play at the game's official website.
View a new set of images at the gallery.