BlazBlue and Dengeki Bunko FC devs want to make Idolmaster, Love Live fighting games
The Idolmaster vs. Love Live would certainly be... interesting.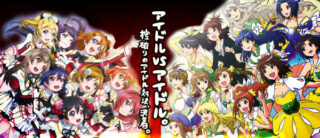 The latest issue of Dengeki PlayStation features a roundtable interview with the developers behind several popular 2D fighting games.
One interesting tidbit comes from the question, "From here on, what kind of fighting game would you want to make?" The responses are:
Capcom's Tomoaki Ayano (Ultra Street Fighter IV): "Rather than a side-view fighting game, I want to make a Mobile Suit Gundam: Extreme VS.-like multiplayer game."

Arc System Works' Toshimichi Mori (BlazBlue): "Anything is good. I want to make an Idolmaster fighting game. And in the end, I want to work towards The Idolmaster vs. Love Live."

Sega's Takahara Terada (Dengeki Bunko Fighting Climax): "I'm also gunning for Love Live. Since Love Live is also a Dengeki work, I want the girls to be playable if we make another installment of Dengeki Bunko Fighting Climax. And ultimately, it'd be interesting if we could get characters from novels of other companies."
Idol-versus-idol would certainly be interesting. Hop to getting those licenses, Arc. And if we can't get that, then get working on Dengeki Bunko Fighting Climax 2, Sega.
Thanks, Hachima Kikou.