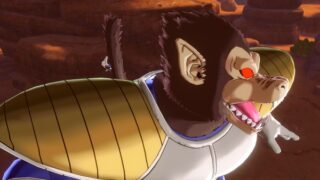 The latest Dragon Ball Xenoverse media blast introduces the "Tenkaiichi Budokai" world tournament, more Toki Toki City hub details, and giant bosses.
Get the details below.
Tenkaichi Budokai

The world tournament from the Dragon Ball universe will be a major feature in Dragon Ball Xenoverse. Fighters from all around the world should keep an eye on the Lobby to take part in tournaments regularly organized by Bandai Namco.

Toki Toki City

Trunks will be the players' guide in Dragon Ball Xenoverse. With his help, players' custom-made time traveler will meet the Supreme Kai of Time in the "Toki Storage Room," where you can meet and greet or fight against other avatars, customize your characters' skills and attire, train with your chosen master, an take part in "Time Patrol Quests" (story mode) and "Parallel Quests" (co-op play mode).

Players will also be able to fight against gigantic enemies such as Great Ape Vegeta (available via both Time Patrol and Parallel Quests). And the story of the movie Dragon Ball Z: Battle of the Gods seems to be have been altered. "What are Beerus and Whis doing here?" Bandai Namco teases.
Dragon Ball Xenoverse is due out for PlayStation 4, Xbox One, PlayStation 3, Xbox 360, and PC on February 17 in North America and February 13 in Europe.
View a new set of screenshots at the gallery.