Armikrog, The Banner Saga, and Kyn coming to PS4
Versus Evil titles playable at PlayStation Experience.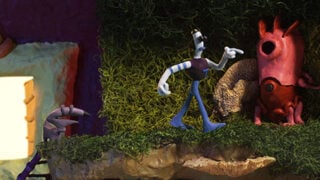 Versus Evil is bringing Armikrog, The Banner Saga, and Kyn to PlayStation 4 alongside the previously announced Toren, the publisher announced.
All four titles will be playable at PlayStation Experience in Las Vegas next month.
Find details about each below.
Armikrog
Armikrog is a point-and-click adventure game from the original creator of Earthworm Jim and The Neverhood in partnership with Pencil Test Studios. It's a "stop motion clay video game" described as somewhat of a spiritual successor to The Neverhood, as well as comparable in size an scope. Here's a brief story synopsis:
Armikrog follows the adventures of a space explorer named Tommynaut and his blind alien, talking dog named Beak-Beak. They crash land on a weird planet and end up locked in a mysterious fortress called Armikrog. Then…the adventure begins!
The Banner Saga
Already available on PC, Mac, and iPad, Stoic Studios' well-received Viking-themed tactical RPG is coming to PlayStation 4. Here's a brief overview:
The Banner Saga is an epic role-playing game inspired by Viking legend. Hand-painted landscapes portray a world eerily suspended in perpetual twilight. Cities and towns begin to crumble into chaos. Heroes abandon their hearths and homes to traverse the snowy countryside, gaining allies along the way to help battle a strange, new threat.

Decisions have consequences; wise choices must be made when conversing with possible allies during intricately crafted dialogues. Turn-based strategy brings tactical challenge in hand-animated battle sequences. With visuals evocative of the golden age of animation, The Banner Saga brings skillfully crafted art, story and strategy to gamers waiting to re-experience classic adventures and tactics.
Kyn
Kyn is a team-based tactical RPG developed by two-man studio Tangrin within the span of two years. Here's the overview:
Two-man developer Tangrin bring you their debut title Kyn, a lush new tactical RPG where players take control of a troop of up to six specialized warriors and slash, shoot, spellcast and strategize their way through an epic Norse world. A hybrid take on the RPG genre which evokes the tactical battles of Syndicate Wars, mastery of real-time battle strategies is key to progressing through Kyn's lands full of complex puzzles, dangerous quests and – of course – whole mountainloads of loot.

Kyn is a fast-paced and intelligent take on the fantasy genre where your actions will slowly shape the world around you. You'll have to be smart to succeed: enemy AIs will evolve throughout the game and use increasingly complex maneuvers against you. Early foes may wander helpfully into the path of your strongest warrior, but later enemies will flank you, send raiding parties on ahead and make use of defensive formations to better their chances. In other words, you'll have to use your wit, synthesize the different abilities of your warriors and react to enemy tactics to become truly the king of Kyn. Bumrushing and brute force are for lesser mortals than you.